Patent Drafting
At iCuerious, a dedicated team of domain specialists are trained extensively on all aspects of patent laws in different geographies where we serve our clients. Our team has extensive experience in drafting provisional as well as full utility and design patent applications across jurisdictions including the US, Europe, Australia, Korea, Taiwan, China and New Zealand. We also provide support in drafting specific sections of the patent application depending on the client requirements.
A combination of our thorough understanding of patent laws, a superior technical background and a rich network of certified patent agents helps us assist law firms and in-house counsel in writing quality drafts with the broadest possible coverage of claims, resulting in strong applications with a high likelihood of grant. We also keep an eye out on products launched by competitors after patent priority to identify features of such products that are incremental in light of the invention and subsequently draft additional claims or amend existing claims to provide additional coverage.
Key Differentiators
Multiple embodiments with unambiguous implementation details
Detailed specification with support for every claim term
Focus on the broadest possible interpretation for strong claims with wide coverage in light of the novelty of the invention
Intelligent use of 'Claim Mix' and 'Claim Diversity' to avoid any potential design around
Network of experienced patent attorneys to review drafts as per project requirements
Reduced times for patent approvals during prosecution by minimizing iterations resulting in significant cost savings
Office Action Responses
An office action response includes both legal and technical arguments that should coexist harmoniously to rebut the rejections/objections raised in the office action.
For example, these responses require a comprehensive understanding of the patent law, the technology behind the invention, and the cited references. At iCuerious, our team of experienced professionals with a strong technical background assist you in assessing the irregularities in the filing documents and provide expert advice on all the communication with the examiner. We help our clients significantly reduce prosecution costs by minimizing iterations while ensuring the broadest possible coverage of patent claims, resulting in strong patent applications with a high likelihood of grant. Our team has extensive experience in prosecuting patent applications and drafting quality responses for patents filed across jurisdictions including the US, Europe, Australia, Korea, Taiwan, China and New Zealand. We collaborate with law firms/corporate legal departments and ensure strict adherence to response deadlines to avoid late fees. The quality of every OAR is maintained by an internal quality check and thorough review – review of technical inputs by a technology expert, legal review by a patent agent, and bibliographic data/ formatting by peers.
Patent Drawings/Illustrations
When filing for a patent, you are relying on the drawings to accurately convey the design and function to the examiner. The views that are created must be completely consistent with one another. Elevation and plan views must be devoid of all perspective. It is especially critical to file formal drawings prepared by a professional draftsperson when filing for design patents because inadequate drawings rejected by the Design Unit may lead to the abandonment of the case as the USPTO issues new matter rejections to any later changes.
iCuerious's patent illustrators can assist you by drafting patent figures and drawings to supplement your Patent Application so that your invention is clearly and easily understood. We can create patent drawings from a sample, digital photo, prototypes, rough sketches, inventor disclosures and computer images or import images from Microsoft Office (Power Point, Word) and other applications.
All Patent Figures and Drawings undergo iCuerious's thorough quality assurance checks before they are added to your Patent Application.
Samples
Car oil filter (UTILITY PATENT)
Ophthalmic testing device (UTILITY PATENT)
Remote control air drone (DESIGN PATENT)
FAQ
Technology Landscapes
Our patent landscape reports powered by the in-house automated taxonomy generator and including detailed infographics on technology trends will give you better insights on the technology domain and its evolution, assessment of strengths and weaknesses in your patent portfolio vis-a-vis your competitors, and an overview of the latest trends and specific developments in the industry.
Our patent landscape analysis reports are customizable as per the client's requirements and generally include:
Customized taxonomy: For better insights, we do not rely on automatically classifying patents in your portfolio based on IPC classes. Rather, we understand that every client and project has different requirements. We specialize in creating a customized taxonomy to align with your technology/product line/competitor's product strategy, depending on your objectives.
Infographics: Our reports include a variety of charts and illustrations for presenting the analysis in a lucid manner.
Market research: A detailed research of the products landscape and commercial offerings by competitors in the technology domain to corroborate findings from the analysis of the patent landscape.
FAQ
State-of-the-art search
State of the Art search helps in getting a comprehensive picture of a specific technology area. Our state of the art search report, based on detailed analysis of the patent landscape, helps clients make informed business decisions to better align their IP strategy with the overall growth strategy of the company. A State of the Art search also helps in identifying new competitors and technological trends. We provide customized reports based on the client requirement and use filters to narrow down our focus based on date range, assignees, keywords, etc.
Patent Portfolio Management
In today's competitive landscape, building strong IP assets is essential to stay ahead of your competitors and is integral to the overall growth strategy of the company. Aligning the patent portfolio with a company's business objectives helps in maximizing the value of the innovations and in generating returns on the R&D investment. A process of continual filing without active portfolio management can result in your patent budget spiralling out of control. This is where active management and monitoring of your patent portfolio becomes necessary.
You'll get a clear and concise analysis highlighting the strengths and the market potential of your portfolio, and customized reports as per your specific requirements and objectives.
Recommendation of patents for divestment to closely align the portfolio with the product offerings and business strategy, and reduce maintenance costs.
Effective monitoring of the portfolio to identify opportunities for executing effective licensing programs .
Portfolio Benchmarking
Our competitive benchmarking solutions help clients take informed business decisions by providing clear and insightful analysis of the competitors' patent portfolios and their strengths and weaknesses. The reports are typically supplemented with analysis of the client's product line and patent portfolio vis-à-vis the patent portfolio of competitors to identify shortcomings and recommendations regarding acquisition, in-licensing and divestiture are provided to strengthen the portfolio and closely align your IP strategy with current market trends and the growth strategy of the company.
Our customized solutions address specific questions regarding the IP portfolios and R&D strategies of your key competitors. Armed with these insights, you can focus your R&D spends on innovating in areas that are likely to be profitable in the future, while also enabling you to quickly adopt proactive strategies in response to changes in your competitors' focus areas or market trends.
Whitespace Analysis
Our competitive benchmarking solutions help clients take informed business decisions by providing clear and insightful analysis of the competitors' patent portfolios and their strengths and weaknesses. The reports are typically supplemented with analysis of the client's product line and patent portfolio vis-à-vis the patent portfolio of competitors to identify shortcomings and recommendations regarding acquisition, in-licensing and divestiture are provided to strengthen the portfolio and closely align your IP strategy with current market trends and the growth strategy of the company.
Our customized solutions address specific questions regarding the IP portfolios and R&D strategies of your key competitors. Armed with these insights, you can focus your R&D spends on innovating in areas that are likely to be profitable in the future, while also enabling you to quickly adopt proactive strategies in response to changes in your competitors' focus areas or market trends.
IP Due Diligence
We help in accurately determining the true worth of a patent portfolio by providing actionable insights and recommendations on the commercial potential after conducting thorough due diligence. We specialize in both buy-side and sell-side due diligence.
Buy-side Due Diligence
If you are looking at acquiring a patent portfolio, we'll estimate the value of the patents based on technology assessment and its commercial use. We'll also provide an in-depth evaluation of the strength of the portfolio and analyse how acquiring the portfolio may strengthen your R&D strategy based on close alignment of the combined portfolio with your product pipeline.
Sell-side Due Diligence
If you're interested in maximizing the return on your IP or if you are looking to reduce maintenance costs while maintaining the core strengths of your portfolio, we will help you conduct a thorough due diligence of your current portfolio and provide recommendations on out-licensing/patent assertion and divestment strategy through customized reports.
Patent Monitoring Services
To get ahead of your competitors in today's competitive landscape, it has become imperative for organizations to keep a close tab on various events of interest related to their close competitors, including patent filing, grant and issuance, new patent lawsuits or monitoring of patenting activity in a technology area. We, at iCuerious, help clients gain strategic advantage by providing customised services:
Legal Status Monitoring
Technology Watch
Litigation Watch
Legal Status Monitoring
The ability to monitor the status of legal issues or proceedings is a comfortable and inexpensive way to keep you informed about the known IP rights applications emerging in the context of the granting procedure. Our legal status monitoring services range from compiling tabular overviews to the targeted monitoring of specific events related to individual patent sets/publications (e.g. grant of patent), which we implement according to your individual requirements.
Litigation Watch
We can monitor developments in your specified technology area by continuously updating the monitored list of patents using dynamic search strings and provide timely reports on any new lawsuits filed involving those patents. We will also ensure that you receive updates in your inbox regarding movements in a current lawsuit you may be interested in tracking.
Technology Watch
A technology area is monitored and regular updates are sent to your inbox related to competitors' filing activities in that area. Depending on the specific requirements, our team can also perform analysis of the identified applications to identify new business opportunities.
Patent Portfolio Analysis
Some of the use-case scenarios for our portfolio analysis reports are:
Identification and ranking of the most valuable patents in the portfolio based on significance of the underlying technology and market potential.
Determination of the cumulative worth of a portfolio based on opportunities for monetization via licensing/litigation routes.
Mining a set of patents from a portfolio based on its relevance to a target technology/competitor's product line.
FAQ
Portfolio Screening
At iCuerious, a knowledgeable team of technology specialists screen your patent portfolio against target products from companies across all domains. In the past, we have worked on portfolio screening projects related to domains such as telecommunications, computer networking, and semiconductors as well as emerging technologies including virtual and augmented reality, Internet-of-Things (IoT) etc.
Our targeted focus on the project requirements has enabled clients to make strategic decisions on litigation and/or licensing, helping them secure favorable verdicts in high-stakes patent litigations or striking lucrative licensing deals.
Patent Ranking and Portfolio Evaluation
We focus on qualitative and quantitative parameters to identify the most valuable patents, assess monetization opportunities and make informed decisions about the monetization potential, and support licensing programs to achieve optimal client rewards.
A set of potential high-value patents is extracted using our proprietary patent-ranking algorithm. Detailed analysis of the shortlisted patents is then conducted by our technology specialists to identify the most valuable (diamond) patents. A plethora of parameters is used in this analysis, including market applicability, infringement detectability, enforceability and validity. Every patent is ranked on a rating scale (with specific criteria based on the requirements of the project) and a rationale behind the assignment of a particular rating is provided for clarity and ease of understanding. A final recommendation is then provided along with a cumulative score for effective sorting of the patents.
To summarize, you'll get a clear and concise analysis highlighting the strengths and market potential of the patent portfolio, and customized reports as per your specific requirements and objectives.
Patent Sales Packages
Patent Sales Packages are used to help with the divestiture of patents in silent auctions or private sales. Our ability to clearly bring out a connection between the patented technologies and their commercial benefits has made a significant difference in numerous deals, helping clients maximize the returns on their IP assets. We prepare customized sales packages keeping in mind the target audience and exploring all possible avenues to optimize the sales value. We have a track record of delivering over 80 such sales packages for our clients and have helped close several successful deals.
A typical report prepared by the team at iCuerious will include the following information:
An overview of the patents – including executive summaries, general comments on infringement detectability and market potential, validity.
Analysis of the commercial landscape of the technology area – major players and their product offerings, market size, and significant current and future technology/market trends.
Evidence of Use reports for the most valuable patents.
Analysis and identification of the potential parties which may be interested in acquiring/licensing the patented technologies
EoU Charting
Our detailed reports with interactive infringement charts and patent-product/patent-standard maps combined with a creative approach to unearth hidden evidence will give you a clear picture of whether the patent is worth pursuing for a deep dive analysis for litigation/licensing.
We have extensive experience working on complex technology domains ranging from telecommunications, semiconductor devices and computer networking to virtual and augmented reality.
A typical evidence of use report prepared by iCuerious includes an overview, including an executive summary, of the subject patent and the invention, commercial significance of the technology in question based on comprehensive market research, potential infringing products and their estimated revenue, and a preliminary mapping of the product/standard on the patent claims. This is accompanied by a recommendation of the most promising products which can be explored further for a detailed infringement analysis or a deep-dive report.
Patent Product Mapping
Whether you are involved in Patent Licensing, Patent Litigation, or are looking to acquire or sell patents, a key factor in the decision making process is to know which companies may have products infringing your patented technology or which patents should you acquire to get extra protection for your marquee products. iCuerious offers Patent-Product Maps as a tool to help make these decisions.
The Patent-Product Map cross-references patents to companies and related products that are likely to use the invention. By combining this information with market revenue and market share information, informed decisions on licensing targets, patent divestiture or acquisition, etc. can be made.
Patent Standard Mapping
Our team of domain experts has extensive experience in mapping preparing customized patent-standard mapping reports. In the past, we have executed several projects mapping independent and dependent patent claims to technical standards such as ETSI, ITU-T, 3GPP, 3GPP2 and IEEE. The insights from these reports help our clients make strategic business decisions with respect to acquisition or licensing.
Target Scouting
We provide targeted and high-quality reports and leverage our domain expertise to deliver a tailored report based on your budget and requirements.
We conduct exhaustive searches to identify potential monetization opportunities for your IP assets. Our target scouting reports generally include an overview of the potentially infringing products, brief patent-product map summaries based on the infringement theory, an estimation of royalties/damages and relevant industry insights. Customizable based on your main requirements.
Infringement Analysis
We take pride in our track record of having helped clients win complex technology lawsuits leading to multi-million dollar verdicts and settlements. In addition to mining infringement evidence from publicly available documentation, iCuerious consultants are proficient in exploring other avenues such as product testing and source code review to strengthen the infringement theory and prepare comprehensive claim charts.
Product Testing
In complex technology lawsuits, unearthing crucial evidence of a product's operation by product testing can often be the difference between winning and losing the infringement argument. Evidence obtained via testing is one of the most definitive ways to ascertain the extent of infringement for a product as testing provides a new outlook into the product's operation.
Product testing in litigation requires a clear understanding of patents-in-suit, claim limitations, the infringement theory and contentions. Product testing can be especially advantageous for extracting evidence from various telecommunication devices, protocols and standards. Our team at iCuerious is proficient in conducting tests across various abstraction layers in the OSI model using packet sniffing and probing tools such as Airpcap, Wireshark, Charles Proxy, Fiddler and mHotSpot. We can also perform GUI or functionality-based testing, depending on the specific case requirements, to supplement the evidence obtained from product documentation and other sources such as code review.
Source Code Review
Patent litigation involving computer software can be very expensive. Both parties can sometimes spend millions of dollars in legal fees litigating such cases. Reducing the cost of software-related litigation requires deep technological expertise combined with a smart and creative approach to remove bottlenecks and expedite the review process. It calls for efficient work and coordination between the technology experts and the law firm both prior to and during the discovery process.
The costs can mount quickly if the reviewer is not able to make quick decisions regarding the functions and modules to focus on as the other party sometimes intentionally produces large volumes of irrelevant code to complicate the process and make discovery difficult. On the other hand, there are occasions when the opposing party is hesitant to produce proprietary code for fear of intellectual property theft and trade secrets misappropriation. Therefore, it is imperative for the reviewers to understand the intricacies of the technology in question and the context of the lawsuit to quickly assess deficiencies in code production and advise the counsel appropriately.
We have a dedicated team of source code review specialists and domain experts with extensive experience in advising law firms in lawsuits which have resulted in multi-million dollar settlements for our clients. We also regularly engage with our network of experts to prepare expert witness reports to produce winning outcomes for our clients. We have consulted on a range of cases ranging from patent infringement litigation to lawsuits related to misappropriation of trade secrets. We understand that every case is unique and a cookie-cutter approach is not usually the smartest way to approach a new project. At the same time, building on years of diverse experience, we have maintained a repository of learnings from past successes which we use to fine-tune our approach based on the client's requirements.
The team at iCuerious undergoes comprehensive training on all aspects of the source code review in IP discovery and special emphasis is laid on the need to maintain confidentiality and prevent unauthorized use of sensitive information.
Our reviewers have expertise across all major programming languages and platforms used today.
Code Review Software: Eclipse SDK, Scitools Understand, Microsoft Visual Studio, Codelite, Netbeans.
Languages: C/C++, Java, VHDL, JavaScript, Python, C#, Objective C/C++.
Invalidity and Infringement Rebuttal
Upon receipt of notice of patent infringement, one of the standard defence strategies is to prepare a technical rebuttal or an infringement opinion. These rebuttals are typically handled by one of the following methods:
Challenging the validity of the patent.
Challenging the validity of the claims construction.
Challenging the technical accuracy of the infringement read.
iCuerious has experience of successfully supporting a number of clients with technical rebuttals in various patent disputes. Additionally, iCuerious provides full support to the client with counter rebuttals in cases where the client's infringement read has been challenged by the opposing party. Our technology expertise accumulated after years of relevant experience, and superior understanding of the patent laws helps us understand the context and merits/demerits of every case leading to targeted rebuttal reports and wins in complex technology disputes.
Claim Charts
A detailed infringement chart includes the following sections:
File wrapper analysis for novelty: We perform a detailed file wrapper review analysing the arguments between the applicant and the examiner during prosecution. This helps us pinpoint the exact reason of allowance and the distinguishing feature or novelty that got the patent granted. We include a section in the report summarizing our analysis.
Feature matrix: We divide the claims into key features based on thorough understanding of the patent and its novelty. A key feature matrix compares the list of the features in the patent with the corresponding evidence available in the potentially infringing product. This evidence may be gathered from targeted searches in the publically available product documentation and manuals, reliable third party sources and demos of the product, source code review (open source or proprietary if discovery involved), and ingenious product testing and reverse engineering techniques.
Feature-evidence maps: A table including detailed citations from evidence corresponding to a particular key feature. We also include comprehensive comments which give an overview of the infringement theory to begin with and then explain specifically how the individual pieces of evidence tie to the overall infringement theory and relate to claim terms. While dealing with lengthy and technically complex claims, we use color codes to clearly illustrate the relation between a specific citation and the corresponding section in the claim element.
Level of coverage: Claim chart can be prepared for the independent as well as the dependent claims of the subject invention based on the client's requirements.
Ex/Inter Parte Examination
If you have received the dreaded "cease and desist" letter from someone unfairly trying to enforce a patent which is overly broad or invalid, iCuerious consultants provide specific assistance in bringing about a patent re-examination action.
We can assist you with:
A comprehensive search following which a detailed report documenting the identified prior art is prepared which can be used for the re-examination request.
Formulating arguments to be submitted to an examiner in support of "substantial new questions of patentability" (SNQs)
preparation of the specific content to be included in a USPTO patent re-examination request.
Claim Construction
Markman hearing, or a claim construction hearing, is a pre-trial hearing during which a judge examines evidence from all parties on the meanings of relevant keywords used in a patent claim. Our in-house team of technology specialists works closely with subject matter experts and expert witnesses to provide a clear interpretation of the key terms of the disputed claim in light of the specification, file history and the case context to bolster the client's infringement/rebuttal arguments.
Invalidity and Validity Search
A prior art search can be helpful in multiple scenarios depending on the immediate requirements. For example, a prior art search may be performed to invalidate the claims of a patent as a defensive strategy in a lawsuit or validate the enforceability of a patent.
A Patent Validity Search or Patent Invalidity Search is an exhaustive prior art search conducted after patent issuance. These two searches are identical except for the desired outcome (valid or invalid patent claims) of the search.
A Patent Validity Search will determine whether a patent can withstand attack in litigation. Our team at iCuerious provides clients with an in-depth analysis of the patent art that may be used to validate the enforceability of a patent. Clients only need to provide the patent number and the claims of interest and we will conduct an extensive search of US and foreign patents, publications and technical literature.
Also, a validity search can provide a good idea of how useful the patent will be in licensing negotiations. A prospective licensee may want to conduct a validity search to determine the strength of the patent. The licensee can then adjust their minimum royalty payments according to the findings before entering into licensing negotiations.
When confronted by allegations of patent infringement, proof of invalidity based on prior art is the first line of defence. The patent invalidity search is generally wide-ranging and extensive because an entire patent infringement lawsuit may depend on it. Thus, a patent invalidity search is an all-out attack on the patent.
A client may use the results of a patent invalidity search to try to invalidate the patent either by litigation or by filing a petition to institute an inter partes review of the patent at the U.S. Patent and Trademark Office.
Our specialized tools, including the in-house Knowledge Dictionary (iCueBookTM), help us provide actionable results with quick turnaround times and reduced costs. Our team at iCuerious has global search competencies with language experts and worldwide database access resulting in exhaustive analysis.
Furthermore, experience and positive client feedback has reaffirmed our belief in the value of conducting searches based on the context of the patent and the case. A higher number of results do not add value if they are not related to the technology in question.
Contingency-based Search
Similar to a patent litigation, the outcome of a prior art search is not predictable. Sometimes, it makes more sense to do a contingency-based search to ensure that you pay only if you get the right results. Our technology expertise and creative approach gives us the confidence to provide contingency-based services, thus providing a guaranteed value-add.
Knockout Search
Our knockout search is not limited by the number of hours spent on the project. Our focus is on exhausting all possible avenues to ensure that if there's a prior art hidden somewhere, we can unearth it to make your case stronger. This single-minded focus on results and our extensive search experience allows us to deliver quality knockout search reports with a high success rate.
Patentability Search
A patentability search, sometimes called a patent novelty search or simply a novelty search, is conducted to ascertain whether a potential invention is novel, or not, by determining whether anyone else publicly disclosed the inventive concept prior to its critical date. It also helps in deciding whether the invention meets the requirements of novelty and non-obviousness. iCuerious' patentability searches allow patent practitioners, corporations, and individual inventors to make the application process easier by anticipating what the examiner will cite during prosecution of a patent application.
Further, our analysis of the search results strengthens the patent application and claims by anticipating potential invalidity concerns during re-examination and/or litigation. Most importantly, a determination is made on whether the invention is worth pursuing for patent protection given the state of the published art.
Our patentability patent searches cover US, WIPO, EPO, Japan, Korea, China, Canada, and hundreds of other foreign jurisdictions. We also thoroughly search Non-Patent Literature, including related electronically available journals, websites, technical literature, manuals, books, articles, and blogs.
DOWNLOAD INVENTION DISCLOSURE FORM Download
Accelerated Examination Search
In August 2006, the USPTO established procedures for accelerated examination of patent applications to reach a decision within 12 months. One requirement of these procedures is the submission of an Accelerated Examination Support Document (AESD).
The Accelerated Examination Search greatly assists in the creation of an AESD by providing the required search history, relevance explanations for references, and application of relevant references to your claims. iCuerious's report includes a detailed search history which demonstrates that the search was conducted according to USPTO guidelines for the filing procedure. The search results are formatted to allow copy-and-paste incorporation into your Pre-Examination Search Document and AESD.
FTO Search
Before the launch of a new product or the launch of an existing product in a new geography, it is crucial to conduct a freedom-to-operate (FTO) or a clearance search. It is also prudent to conduct an FTO search prior to a business acquisition or prior to entering into a new technology area.
FTO searches identify potential patent barriers to the commercialization of products or technologies. Our team at iCuerious will identify published applications and unexpired patents that may be closely related to the technology in question. This helps us identify potential barriers to a product launch and brainstorm ways to circumvent those barriers. Our search will also help our clients determine if the product or service they are pursuing is in the public domain. We can focus solely on US patents and published documents or we can broaden our scope to include foreign patent documents depending on the client requirement.
While conducting an FTO search, we do not restrict our search to cases of literal infringement but also consider infringement under the doctrine of equivalents, indirect infringement, and the extra-territorial reach of U.S. patent laws.
All searches undergo iCuerious' thorough quality assurance checks before they are delivered to our clients.
Design Search
A search prior to registration of a design is vital to ensure the uniqueness of your design and to confirm that similar designs have not been registered already. At iCuerious we have conducted several design based searches in domains ranging from ornamental product designs to medical devices and electronics.
Our extensive experience in delivering quality design searches and strong analytical skills help us understand the uniqueness and precise elements of each design. Additionally, we follow a standard operating procedure which can be easily customized to meet specific client requirements.
Technology Mapping- iTechmap
Technology mapping is a process of mapping the relevancy of Client's products/technology in view of the current and future needs of a potential customer of the Client or a company in general. Further, it is used for identifying the business strategy of a potential customer, and thereby areas of future investment or technology enhancement needed that will yield long-term competitive benefits. It also helps in benchmarking the products or technology of existing suppliers or vendors of potential customers with the products/technology of our Client.
Based on detailed Market and IP analysis, iCuerious provides conclusive recommendations for the products/technology that may be the basis of potential collaboration between our Client and their potential target customers, and recommendations on enhancements required in the existing product line of the client.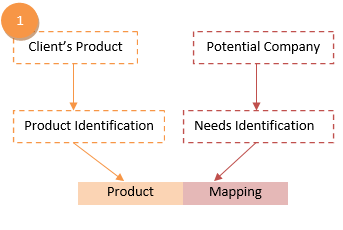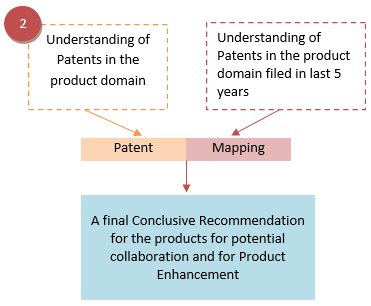 Our Technology Mapping Report will answer the following queries:
What are the current and future needs of a potential company that is targeted for business collaboration?
What products/technologies are critical to achieving the strategic partnerships?
What enhancements are required in existing product line of the client?
Who are the leading partners of the potential targeted company?
What is the position of the client in each of those technologies relative to other partners that are providing the same technology to potential company – leading versus trailing?
What are the IP strategies of potential target company in view of patent filings of last 5 years?
FAQ
Technology mapping, iTechmap is a process of mapping the relevancy of Client's products/technology in view of the current and future needs of a potential customer/company.
Yes, the client may suggest the specific companies for technology mapping.
Our technology mapping study shall provide the conclusive recommendations for the products/technology that may look for potential collaboration, and enhancement required in the existing product line of the client.
You will receive the following deliverables:
A detailed Microsoft PPT report that includes the current and future needs of the targeted company, product mapping, patent mapping, and conclusive recommendations.
A Microsoft Excel report of relevant patents corresponding to the recommended products of the client. Also, we shared the list of relevant patents of the targeted company filed in the last 5 years in the similar product domain.
In general, iTechmap is helpful for B2B or OEMs who are looking to explore the potential complementary collaboration with another company. For instance, an auto part manufacturer who manufactures auto parts such as exhaust systems or brake cylinders wants to sell their auto parts to an automobile company, then iTechmap is the best suitable study to understand the right partner and their business needs.
In order to map the products with the needs of 1 company, iTechmap usually takes 120-160 hours in project completion.
For pricing details, you may contact us at info@icuerious.com
Competitor's Business and IP Strategies- iStratMap
In today's increasingly turbulent markets, companies are facing the formidable challenge: How to stay competitive despite massive uncertainty? It is pertinent to understand the business strategies of competitors to hold the competitive advantage in the market. Not only this, it is also essential to understand how competitors are aligning their IP strategies corresponding to their Business Strategies.
iCuerious is continuously assisting companies to develop fact-based strategies to contend with an evolving landscape. Our customized support (iStratMap) to identify the Business and IP Strategies is helping the top management of companies in making the informed strategic decisions for current and future plans that will yield long-term competitive benefits.
iStratMap will answer the following queries:
What are the business strategies followed by the competitor in the last 10 or 20 years?
How the competitor change/enhance its product line in different years?
How the competitor filed the patents to protect its product line in the last 10 or 20years?
What are the preferred jurisdictions of the competitor from the market and IP perspective?
What are the acquisition made for geographic expansion?
What are the acquisition made for technological enhancement?
What are the different problems solved by competitor's new technology as claimed in their patents?
What are the other major market events of the competitor?
How the competitor has changed its organization structure to avoid business operation complexity?
FAQ
Supplier & Partner Identification
Despite the proliferation of available supplier information, identifying potential suppliers worldwide who provide a product or service meeting required specifications remains a challenge. Selecting the right suppliers for your business needs is vital to ensure that you are able to deliver your products and services on time, at the right price, and in compliance with your quality standards. By implementing specific supplier's selection criteria, it's possible to identify companies that will work with you to meet the demands of your customers.
Our Supplier & Partner identification process helps the firms in robust selection process of the suppliers based on factors such as technology and IP strength of the supplier, pricing, quality, reliability, etc. Not only this, we also benchmark the various suppliers working in the technology domain which further helps in selecting a pioneer supplier.
Our customized solution for supplier identification will answer the following queries:
Who are the leading suppliers in the technology domain?
What are the technological advancement of every supplier?
What are the patents of suppliers that are protecting the technology?
What are the quality certification hold by the supplier in the technology domain?
How many times the supplier participated in the trade shows?
What are the financial highlights of each supplier?
FAQ
TRACE™
TRACE is a proprietary quantitative benchmarking tool that represents competitive positioning of companies working in a specific technology space. It uses "IP" as well as "MARKET" intensive parameters for synthesizing a combined quantitative score of companies and uses the score value for evaluating competitive positioning of the companies.
Example: Competitive Positioning of Players in Wearable Devices Technology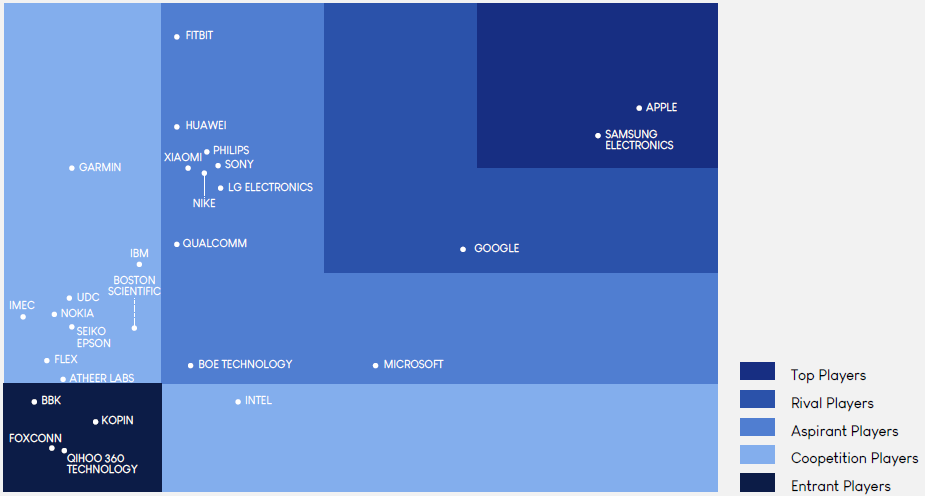 FAQ